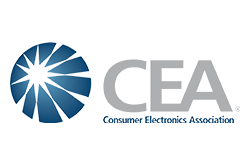 Info
The CEA (Consumer Electronics Association) is an American industry organization and presenter of the CES (Consumer Electronics Show). Every year in January, the leading consumer electronics companies gather in Las Vegas to show their latest gadgets. Beside UBS and Autodesk, the CEA was one of the starting clients for our New York office.
Task
In close cooperation with CEO Gary Shapiro, we analyzed the brand and the possible touch points to develop a tailor-made acoustic identity concept.
Result
This has not only been used at the classical touch points as films, walk-in music and event sound, but their sound logo is also played when entering the monorail during the show (the monorail is connecting the hotels with the fairground).
For more information please feel free to contact us.