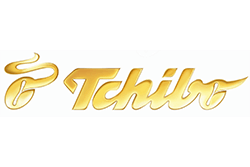 Info
The in Hamburg based coffee roaster Tchibo, which besides coffee also distributes a wide range of seasonally changing, interesting articles in its stores, was the first client of audio consulting group in 2001.
Task & Result

The first results of our work have already shown which enormous power is hiding in a structured audio branding process. Therefore we were able to increase the awareness of the non-food business and the related claims ("every week a new world") from 14% up to more than 40% within only 8 months. The corresponding brand theme was used in the following years in more than 30 TV commercials per year. As a result, the awareness of the claim increased by more than 70 %.
In 2013, we have developed a new acoustic brand management concept for the brand, that now doesn't have a separation between the branch business and coffee anymore. We have implemented the briefing in collaboration with the internationally known jazz pianist Martin Tingvall and developed a music that makes the brand acoustically experiencable in all its facets.